10.

ginlo Management Cockpit

(B)¶

Hint

This chapter is intended for Technical administrators.
10.1.

Order the

ginlo Management Cockpit

¶

IT administrators can find out more about ginlo Management Cockpit on the ginlo website.

You can try ginlo Business for 30 days free of charge by clicking the FREE TRIAL button. This will take you to the test form. Fill in the mandatory fields and send the form.
10.2.

Register in

ginlo Management Cockpit

¶

If you have successfully sent the order form, an account will be created for you. Afterwards you will receive the email Your personal cockpit access for ginlo Business to the address you provided.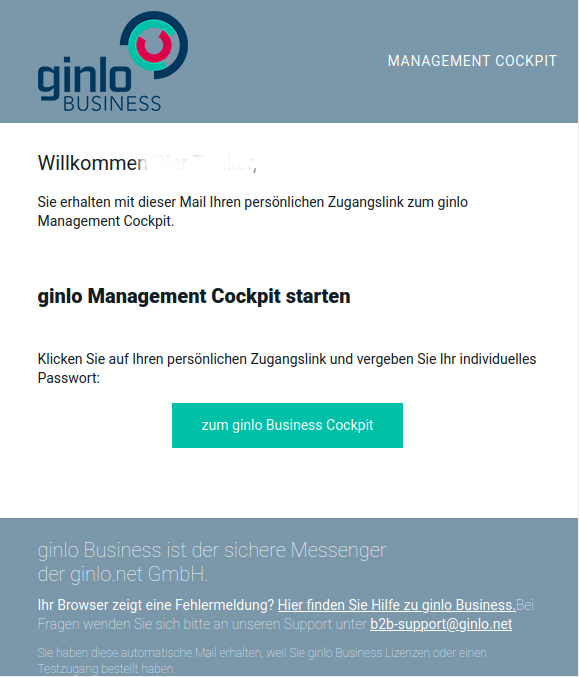 Open the link from your welcome email.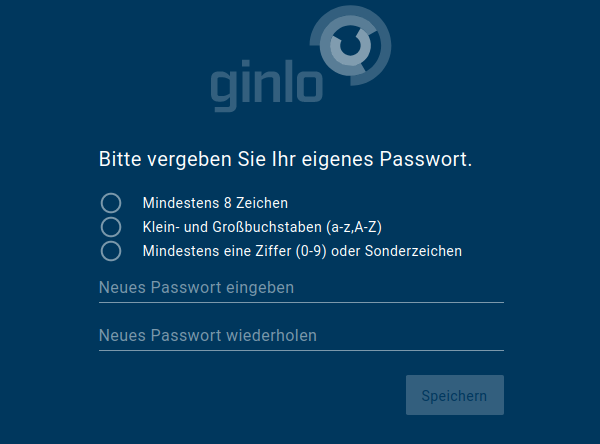 Now assign your personal login password for the ginlo Management Cockpit yourself. The password must consist of at least 8 characters. It must contain lower and upper case letters and at least one digit or special character. Save your password and remember it well!
Important
After first login you will automatically receive a recovery code by email.
Keep this safe and secure.
It is the only possibility to recover administrator account in case of loss of the regular password!
After registration, ginlo Management Cockpit can be accessed via cockpit startpage.
If you need help, please simply reply to the welcome email. With your registration, we have automatically opened a support ticket to quickly assist you with any questions.
10.3.

Cockpit setup¶

This part of the documentation provides an overview of the ginlo Management Cockpit, how to configure the app, how to ideally prepare the rollout of ginlo Business for your company's employees and how to effectively manage the use of the messenger.

ginlo Management Cockpit allows configuration of ginlo Business app according to your compliance requirements and an intuitively simple user and license management.

Via a web interface, an IT administrator can distribute the app throughout the company and control it centrally. In addition to app functions, design can be customized and messages can be sent.

The innovative ginlo Management Cockpit has following functions, among others: